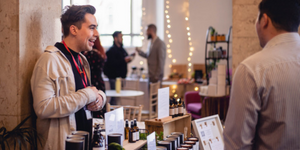 A Brief History
Introducing the Good Market - a different kind of market, focused on promoting purpose-led artisan businesses and supporting local charities. We're all about sustainable and ethical practices, planting trees to offset the carbon produced by traders traveling to our venues, and giving equal and fair trading opportunities to all our traders.

After Covid Lockdown restrictions were lifted, we saw a huge gap in the market for a new kind of shopping experience, and the Good Market was born. With backgrounds in retail, merchandising, branding, and place making, we knew we could create something different and bring a new dimension to Liverpool.

Our mission is to reinvent retail by partnering with progressive, purpose-driven businesses whose values match our ambitions. We aim to deliver high-impact events with a low eco-impact, by working with local people and striving towards sustainable practices.

We recently partnered with Liverpool BID and Liverpool city partners to deliver a two-day Market event for Eurovision, promoting 60 independent businesses to over 300,000 visitors. We've also partnered with organizations such as Culture Liverpool and Visit Liverpool to promote small businesses within Liverpool to national and global audiences.

With regular markets on popular visitor destination Penny Lane and around the city, Good Market is poised for growth and has plans on the horizon for taking our special blend of well-curated events, great values, and a strong following of independents and family-run businesses to London and beyond.

Join us in supporting purpose-led artisan businesses and promoting sustainability, fair trading, and local charities at the Good Market.
Don't Just Take Our Word For It...
Working with GOOD Market has been an absolute dream. I am able to continue on with my creative independence and have been supported with my decisions. Not only am I enjoying working with the lovely team but they have also helped me unlock myself to a new & exciting market.
Samarh
The GOOD Market is getting our product out to lots of customers that we wouldn't have had access to previously. We love the venues that they select as well, some places we never would have thought could host a market!
Anna
Good Market's are always friendly, welcoming and really fun! As a small local maker, Good Market's always make me feel part of a really special and supportive community. The team continually go above and beyond to support small businesses and the days feel really organised from booking to packing up.
Lesley
The Good Market has been the best thing to happen to me this year! It's saved my mental health, getting me out the house, meeting the most incredible people and feeling like I'm part of a wonderful community.
Charlie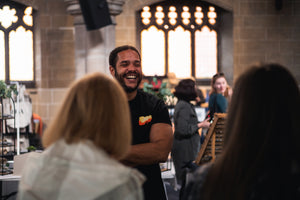 What's Next
GOOD Market's future is bright, with our directory of retailers, locations and venues ever growing, we're excited for what lays ahead. And that's all down to the support we've had, because no matter how hard we work, if we didn't receive the community response that we do at each and every event, there would be no point.
As we grow, we hope to continue leaving this trail of positivity, with big plans ahead.
Follow Us
Come along on our journey. Support local, independent traders in achieving their goals, find beautiful pieces that no high street will ever be able to offer, and see what we have to offer. Because the future is GOOD, but it'll be better if you're there with us.
Find us @goodmarket_nw
WANNA BE A PART OF IT?
With our purpose-driven initiatives, we focus on uplifting local businesses, retailers from non-white backgrounds, those who give back to charity and more.
Because we cannot claim to be doing 'good' if we don't inspire others to follow suit.
Does that sound like something you want to be a part of? If so, sign up here
We are always looking for new indies to join us at our specialist, curated markets and are always releasing new opportunities!